MY RATING: ★★★★★/5 
Lost Boy was my first novel from Christina Henry  and to be honest, I was not disappointed. I think Peter Pan has been one of my favourite classic tales. When I read it for the first time last year, I felt like a kid still enjoying the magical world of fairy dust, flying and never growing up. Christina Henry took all the essentials elements that made it magical for us and turn it to ashes, in a good dark and villain way.
The main character here is Jamie (later known as Captain Hook) and we follow his story of how he met Peter Pan, how he ended up on the island and before he was Peter Pan's enemy, how he became his best friend. His development was astonishing from beginning to start. What is even more interesting was, for the first time, we have a concrete measure of a character development : his growth. You know how all the children living in Neverland never grow up? Except this one. He's growing up throughout the stories and all the turning points of his transformations are also the indications of his character development. Masterful move!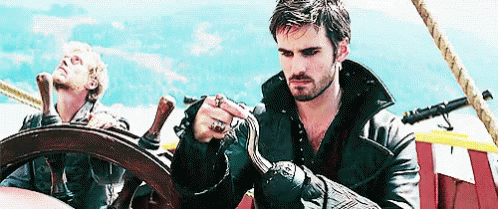 "
Was this, I wondered, what it felt like to be a grown-up? Did you always feel the weight of things on you, your cares pressing you down like a burden you could never shake? No wonder Peter could fly. He had no worries to weight him to the earth

."
― Christina Henry, Lost Boy

We got the chance to see Peter Pan in a new way, it reminds me a lot of the Peter Pan in the Once Upon A Time show (if you got the chance to see it you'd know how he is). In the classic tale, they never really go into the psychology analysis of the character or even give us a little more details about their behaviours. But only with little detail, you can tell Peter Pan was a child at heart, pretty immature and too rebel. Christina Henry has grabbed onto it and turn her Peter Pan into a narcissist child psychopath. It is the worst.
The plot was simple, profound with very attaching side characters.I absolutely adored Charlie,  child who's too young to play with Peter Pan and Jamie has to look after, there are also the twins who are way ahead of their ages and can fight and kill without any remorse, a jealous playmate turning dark and betrayed everyone.
Big thank you to Penguin Random House for giving me this book in exchange for an honest review!
Will you get your hands on this novel? Did you read it ? 😀 Share your thoughts in the comments section below!