RATING : 5/5
The long awaited Black Panther adaptation has been released and I was so excited to watch it ! I own one comic which is Black Panther #1 and it's the only issue I have AHA but just with only a few pages, I already loved it 😀 But man, the movie delivers something else!
THE WORLD-BUILDING was breathtaking. Hidden from the world, the most advanced city on earth succeeds in technologies and keeping traditions at the same time. I love how they still have their chants, costumes and robes while having a super lab with modern gadgets. As you watch the movie, you discover so many details about that civilization and it made me at awe.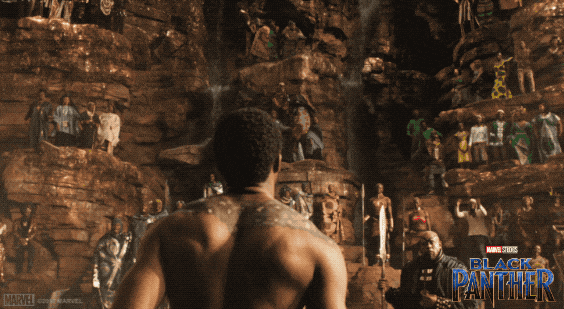 ACTION-PACKED. It's a superhero movie after all right? Of course there were going to have some badass fight scenes. But omg, they took it to another level! From the scenes the Black Panther activates his costumes, to the beautiful tribes scenes, all the fights were choreographed beautifully. The villain was so great, I had no hard feelings in rooting for him LOL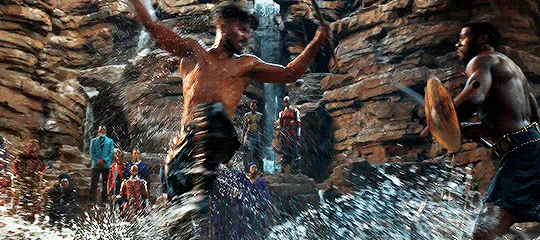 BUT HEY MY FAVOURITE PART: THE BAD-ASS LADIES. Everyone single ONE OF THEM slayed so hard. I have no other words to describe it. They were all smart and powerful on their own. The females warriors were so fierce in this movie!
Shuri was my favourite and one of the biggest screen stealer in my opinion. She was smart, funny and brings such an unique joy on screen! She's the definition of a cool scientist 😀
I think the most important part of this movie is its message. For the first time, we have a Marvel main character who's black and we have an African culture nation who rise to power, who have a far more advanced knowledge and set of weapons. It sends a very big message : diversity is here and we get to embrace its richness. I was leaving the theatre and even if I wasn't black, I felt compelled and proud of what's been done with this movie. All the kids now can relate to a hero whose color does not matter anymore. It's time for people to realize the cultural footprint this movie is going to shape. Marvel has the power to influence kids, adults and how we perceive superheroes.  It could change the African Film Narrative. AND I'M SO HAPPY I'M ALIVE TO SEE IT HAPPENS !
As a big fan of Kendrick Lamar, I couldn't miss a chance not mentioning him because he helped producing the whole soundtrack album ! ❤
Are you going to watch the movie? If you did, how did you find the movie ? 😀
Thank you to Cinema Montreal for the free tickets for the premiere in exchange for an honest review 🙂