The Illuminae Series have to be one of the most entertaining YA science-fiction that Jay Kristoff and Amie Kauffman have delivered in the past years. When I heard about Jay Kristoff releasing a new scifi series, I couldn't help but having very high expectations. It ends up being one of my favourite reads of the summer.
Honestly, I think I'm a bad storyteller because I tried to make this novel sounds interesting to one of my friend and he just looked at me : wtf are you reading..  LOL Hopefully, putting it into proper words for this review would make it sound a little bit more interesting.
1.AI, Cyborg and everything iRobots 
Jay Kristoff's writing style fits very well with Artificial Intelligence narrative voice. I don't know why but after AIDAN (from Illuminae), and now CRICKET in this novel (a little bot), he proves once and or all his capacity in giving all AI a distinctive voice. A voice that sounds realistic but very typical artificial blending with humour and personality. He also created one of the most interesting cyborg world-building. Inspiring a lot from Blade Runner 2049 and the polished fancy upper class from Altered Carbon, he gives us his own version of the future of AI and mankind.
As a neuroscientist, I've also been fascinated with consciousness and emotions in artificial-lifelike-human. Mentioning a lot of dilemmas and ethical questions similar to Westworld, Kristoff explores a possibility where cyborgs and robots developing their own thoughts and freewill allowing them to control their own actions.
 

2.  The friendship between the main character and her bestfriend is not overshadowed by some stupid romance
Evie, the main character and her best friend Lemon Fresh (yes, what a name but the explanation is hilarious) shared a strong friendship chemistry since the first pages. As the journey continues and obstacles throwing their ways, they still remained one of the main dynamics of the novel. Lemon has as many replies and importance as Evie and that's a move I applaud. She's of the funniest characters I've encountered, Not just funny h-a-h-a, funny as in LMAO in front of everybody in the train. 
3. Fast paced /Action packed 
With the first scene starting in a Dome fight, Jay Kristoff showed us once again that he can kick start a novel pretty fast and dangerously. Not once the characters have some time to rest (is this a good thing? LOL) , always on the run, always something happening in a really fast paced. You want to see some cyborg kicking ass ? Or maybe a whole mechanical ecosystem inside a robot Kracken? Kristoff covers it all.  There are some different timelines and I love how he transitions between them as if the whole novel is a rediscovery of a different lifetime.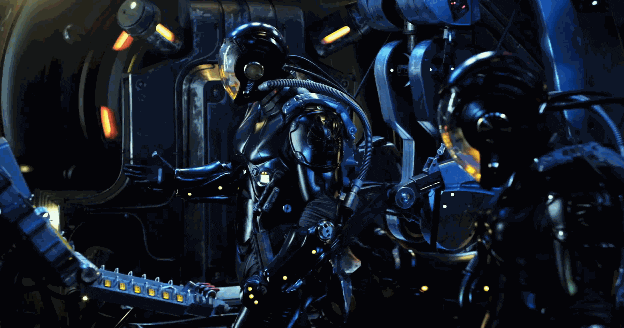 4. You know a novel ends well when..
The last sentence completely changes all the course of the story and now you cry in your corner because you need the sequel ASAP. 
It's Cinder meets Blade Runner and some really cool Pacific Rim action scenes, 
Thank you to Penguin Random House for a copy of this ARC to review!